Congregation Kehilath Jeshurun - Rabbis
Rabbis and Educators
KJ is blessed with world-renowned clergy and senior leadership. Talented, qualified and experienced, our professionals are unmatched. KJ clergy are known for their warm pastoral care, engaging sermons, sensitive halakhic direction, insightful classes, attentive spiritual guidance and passionate leadership. Our clergy are ready to partner with and serve you. ​​​​​
Rabbi
Haskel Lookstein
Rabbi Emeritus

212-774-5650
RHL@ckj.org
Rabbi Haskel Lookstein has been the Rabbi of Congregation Kehilath Jeshurun since 1958 and principal of the Ramaz School since 1966. He is the Joseph H. Lookstein Professor of Homiletics at Yeshiva University, vice president of the Beth Din of America, and a member of the Board of Directors of the UJA Federation of New York. Rabbi Lookstein is also a commissioner of the New York City Human Rights Commission. He received his B.A. from Columbia College and earned his ordination, Master's degree, and Ph.D. from Yeshiva University. (Sermons, Nusach Recordings).
Rabbi
Chaim
Steinmetz
Senior Rabbi

212-774-5665
rcs@ckj.org
Rabbi Chaim Steinmetz has been a congregational Rabbi for over 20 years and has previously served pulpits in Montreal, Quebec and Mount Vernon, New York. He has always been deeply engaged in community affairs, and in Montreal served as a Vice President of the Federation, and held executive positions in the Hillel and the Canadian Jewish Congress. He has written for many publications, writes a regular column for the Canadian Jewish News, and has a blog called the "Happiness Warrior". Rabbi Steinmetz received his ordination from Yeshiva University, where he was a fellow of the Gruss Kollel Elyon and has an M.A. in Jewish Philosophy from the Bernard Revel Graduate School, and an M.A. in Education from Adelphi University. He is married to Lisa Schwartz, and they have four children (Sermons).
Rabbi Elie
Weinstock
Rabbi


212-774-5636
RavElie@ckj.org
Rabbi Elie Weinstock is a veteran of both formal and informal educational programs and a Yeshiva University graduate. He received his Rabbinic ordination from the Rabbi Isaac Elchanan Theological Seminary and a Masters in Jewish Philosophy from the Bernard Revel Graduate school. Rabbi Weinstock serves as custodian of the highly developed KJ Beginners Program and is member of the Talmud faculty at the Ramaz Middle School (Sermons).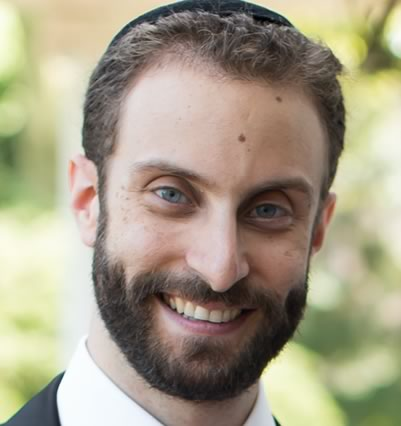 Rabbi Meyer Laniado
Sephardic Rabbi
Rabbi Meyer Laniado has served as a Rabbi in the Sephardic community for four years as an associate rabbi at Congregation Magen David of West Deal and as a Rabbi at Hillel Yeshiva Middle and High School. He received semicha from Yeshiva University – RIETS and the Sephardic Bet Din of Queens. He holds a B.S. in Management from Yeshiva University – Sy Syms School of Business and has a Masters in Talmudic Studies from Yeshiva University – Bernard Revel Graduate School of Jewish Studies.
Mr. Mayer
Davis
Cantor
Cantor Mayer Davis graduated Queens College with a B.A. in Jewish Studies and studied at Yeshiva University's Cantor's Institute. In addition, he trained under the tutelage of his father, Cantor Avrum Davis, a"h, and with the late Cantor David Koussevitsky. A versatile vocal performer and songwriter, he has appeared at venues across the country and has been a featured guest soloist with Zamir Chorale, most recently at Avery Fisher Hall. He has been commissioned to compose numerous musical pieces for Jewish liturgy and several of his choral compositions have been performed by various Jewish High school choruses, including the Ramaz Chamber Chorus.
Rabbi
Daniel Kraus
Director of
Community
Education

212-774-5696
RDK@ckj.org
Rabbi Daniel Kraus is the Director of Community Education at KJ. Daniel is a native of Melbourne, Australia, and graduated Yeshiva University with a B.S. and MBA, completed the Ner LeElef Fellowship at RIETS, and received his ordination from Rabbi Zalman Nechemia Goldberg of Jerusalem. Prior to KJ, Daniel served as the inaugural Director of the Manhattan Jewish Experience (MJE) Downtown location where, together with his wife Rachel, spearheaded the creation of a vibrant community of young Jewish professionals and created a hub of Jewish engagement in Midtown Manhattan for over 7,000 participants. Daniel also served as MJE's Chief Operating Officer. Outside of KJ, Daniel is the Director of Strategic Partnerships for the Birthright Israel Foundation, where he leads strategic alliances for the Foundation, manages the post-trip engagement strategy for Birthright alumni and Institutional Giving.
Rachel Kraus
Director of
Community
Education
Rachel Kraus is the Director of Community Education at KJ. Rachel completed a B.S. from Stern College majoring in marketing with a minor in music, including coursework study at The Juilliard School and holds an MBA from NYU. Rachel is the Vice President of Marketing for the Westfield Corporation, where she leads marketing strategy, partnerships, and brand experience for the World Trade Center retail development project. She has over a decade of experience in teaching informal Jewish education, has taught and lectured in Australia, Belarus, and throughout the US and has been teaching the Matan Bat Mitzvah program in the NY/NJ area for the past decade. Rachel and Daniel are the proud parents of four young children. They were also listed among the 2017 Jewish Week's 36 Under 36 list of emerging Jewish leaders.
Rabbi Dr. Shilo Kramer
KJ Beginners Cantor
Rabbi Dr. Shilo Kramer, Chazan for the KJ Beginners program, is a physician specializing in Physical Medicine and Rehabilitation and regenerative medicine. He is the Director of Physical Medicine at Complete Wellness P.C. in NYC. He completed a fellowship in Cancer Rehabilitation at Memorial Sloan Kettering Cancer Center. He received his M.S. degree from the Azrieli Graduate School of Jewish Education at Yeshiva University and is a popular Jewish studies and Bar Mitzvah tutor for the community's children.
Dr. Benjamin Zalta
Chazan
Dr. Benjamin Zalta, an Associate Professor of Radiology in the Cardiothoracic Division at Montefiore Medical Center and a native of Damascus, Syria, has been Chazan at the KJ Sephardic Minyan since its founding in 2011. He came to New York at the age of 18 to study at Yeshiva University, and went on to earn a medical degree from Albert Einstein College of Medicine. Steeped in the Syrian musical tradition, Dr. Zalta has served Sephardic congregations in Brooklyn and Deal, NJ and led the Sephardic Services at Fifth Avenue Synagogue for 18 years.
Rabbi Jeremy Wieder
Rabbinic
Scholar
Rabbi Dr. Jeremy Wieder is Yeshiva University's Joseph and Gwendolyn Straus Professor of Talmud in the Mazer Yeshiva Program, a rosh yeshiva at the Rabbi Isaac Elchanan Theological Seminary and an adjunct professor of Bible at Yeshiva College. A summa cum laude graduate of Yeshiva College, he was ordained at RIETS, received his MS in American Jewish history from the Bernard Revel Graduate School of Jewish Studies, and holds a Ph.D. in Judaic studies from New York University. Rabbi Wieder is a prolific scholar on issues of Torah's relationship with modernity, with more than 900 lectures on Judaism captured on audio and video and available online.
Sam Berkovitz
Rabbinic Intern
Sam Berkovitz is a 3rd-year Rabbinical Student in Yeshiva University's Rabbi Isaac Elchanan Theological Seminary where he is a Katz Kollel Fellow, and he is also pursuing a Masters degree at the Bernard Revel Graduate School of Jewish Studies. He studied at Yeshivat Torat Shraga in Jerusalem for 2 years before graduating from Yeshiva College with a degree in Ancient Jewish History. Last year, Sam was a Yeshiva University Kollel Fellow at the Ramaz Upper School, and he is very excited to see some of his former students as he engages with the broader Kehilath Jeshurun community.
Dr. Shera Aranoff
Tuchman
KJ Lecturer
Dr. Shera Aranoff Tuchman has been teaching a weekly class in Biblical commentary at KJ for the past 18 years. Notes from this class culminated in the publication of two books, Passions of the Matriarchs and Moses' Women, commentaries on the women in Genesis and Exodus respectively. Shera recently translated and edited over 35 diaries written by her grandmother, Safta's Diaries—Intimate Diaries of a Religious Zionist Woman. These diaries depict American Jewish life post World War Two and include private and personal family happenings, as well as political and historical writings. The book, just published by KTAV, has been reviewed as a "modern-day Gluckel of Hamlen." Dr. Aranoff also practices Dermatology in Manhattan.
Sara Rosen has been with the KJ Beginners program for over a decade. Born in Jerusalem, she studied education at Beit Berl Teacher's College and at Columbia University. Among her many skills and teaching methodologies, Sara has developed Phonetic Hebrew Decoding (PHD), an innovative approach to learning Hebrew reading, that simplifies the process and makes it more accessible. In addition to teaching Hebrew at KJ, Sara oversees the Hebrew program at Rodeph Sholom Religious School and teaches Hebrew in their adult education program.
Danielle Kaufman Herbst
KJ Social worker
Danielle has been a lifelong KJ member and resident of the Upper East Side. She graduated Mount Holyoke with a Bachelor's degree in Psychology and received a Master's in Psychology from Yeshiva University's Ferkauf Graduate School of Psychology and a Master's in Social Work from Fordham University. Danielle, who has experience working with a wide variety of populations and settings, will be an invaluable resource to the community. She will provide individual and family/group counseling; help with referrals and access to services, and provide support during life's challenging periods. Working with the KJ Rabbis, she will help address any emerging concerns and develop programs that best suit the needs of the community.
Rabbi Mayer Moskowitz
Yiddish Teacher
For 53 years, Rabbi Mayer Moskowitz served the Ramaz and KJ community in various educational positions – the teaching of Judaic Studies in the Upper School and Head Master of Judaic Studies in the Lower School. He was the Baal Tefillah in the auxiliary minyan on Rosh Hashanah and Yom Kippur and taught classes as part of the Lunch and Learn program at KJ. Rabbi Moskowitz Devoted his life to kindling the Pintaleh Yid.
Sun, August 19 2018
8 Elul 5778
Sun, August 19 2018 8 Elul 5778