KJ App Events Page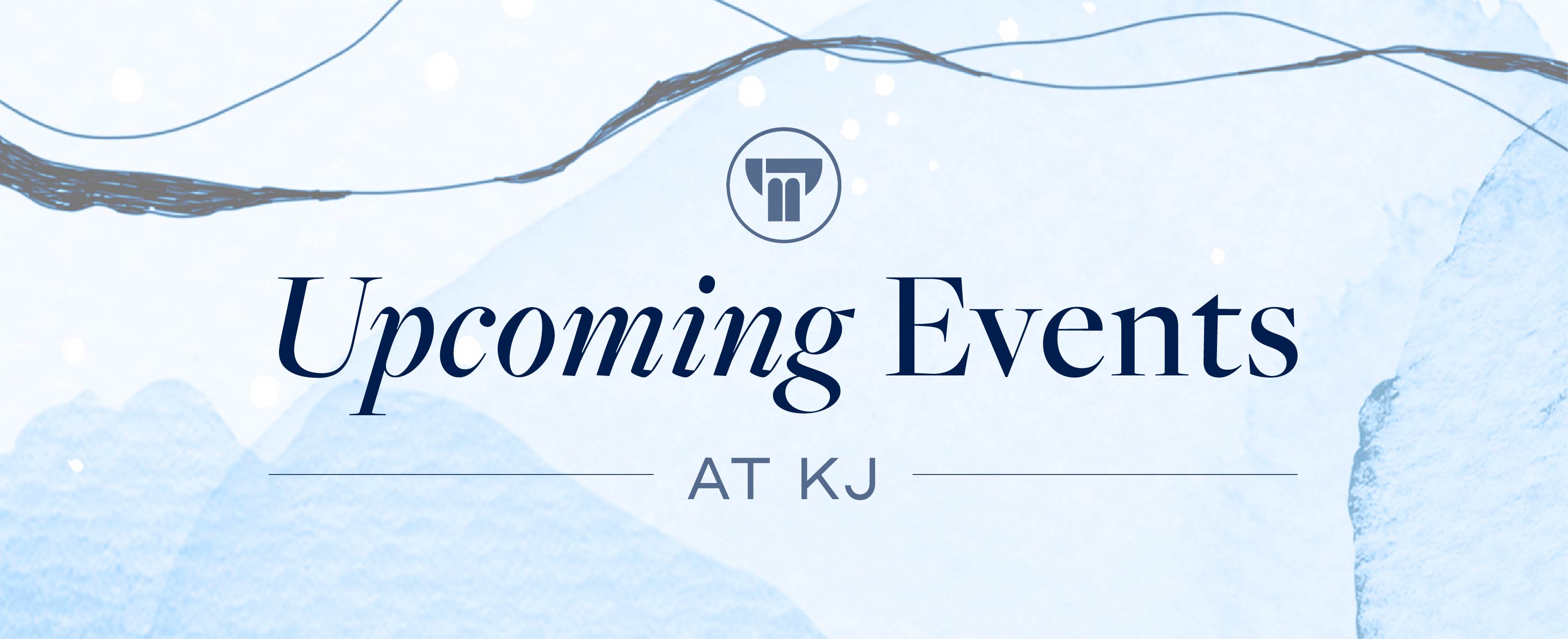 The Leah Modlin Annual Lecture on Caring & Community Service
Sat / Nov 6 / Following 9:00 Am Morning Services
The entire community is invited to hear from Eric Goldstein, CEO of UJA-Federation of New York, speaking on "Volunteering: The Life You Change May Be Your Own." See here for details.
---
Remembering Kristallnacht
TUES / Nov 9 / 7:30 pm
Featuring:
- Remarks by Rabbi Chaim Steinmetz
- A conversation with Holocaust survivor Lucy Lipiner presenting "My Story of Survival - The Holocaust through the Eyes of a Child"
- Musical Presentation with Cantor Chaim Dovid Berson

See more details here. In Person - 125 East 85th Street | Virtual - Click here
---
KJYD Pre-Chanukah Event
Sun / Nov 14 / 12:30 pm
Ages 3 and older are welcome to be dropped off while parents donate blood and shop at the KJ Sisterhood Chanukah Boutique. Register here.

12:30 pm Chesed Activity / 1:00 pm Pizza Lunch / 1:15 pm - Show /2:00 pm Pick-up
---
Sisterhood Chanukah Boutique - back & Better than ever
Sun / nov 14 / 10:00 am - 4:00 pm
Shop for Chanukah (and Thanksgiving) gifts. Kids clothes and accessories, Gourmet Chocolates, Judaica, Women's Fashions, Hostess Gifts, Sparkling Jewelry, Linens, Elegant Doilies and More. Look forward to seeing you. Bring a friend! Location: Ramaz Middle School Falk Auditorium, 114 East 85 Street. Chaired by Sharon Garfunkel and Ariel Stern.
Tefillin and Mezuzah Checking - 9:15 am - 12:30 pm
Tefillin and Mezuzah checking with expert scribe Rabbi Shmuel Bodenheim in the lobby of the Ramaz Middle School, 114 East 85 Street.
---
KJ/Ramaz Blood Drive
Sun / Nov 14 / 8:30 am - 2:30 pm
The New York Blood Center recently reported that our region's blood supply has never been lower. There is an urgent need to replenish this supply. We are asking ALL members of the KJ/Ramaz community to consider performing the ultimate mitzvah of saving a life. Located in the Ramaz Middle School Lindenbaum Gymnasium, 114 East 85 Street. To donate, click here. To volunteer in lieu of donating, click here.
---
KJ Welcomes Scholar In residence
Shabbat Vayishlach - november 19 & 20
KJ Welcomes Scholar in Residence Rabbi Dr. Jeremy Wieder who will be presenting three times over Shabbat. See flyer here.
Following 9:00 am Morning Services
Sermon - "Why Was Jacob So Afraid? The Power of Behavior in Shaping Character"

3:20 pm
Pre-Mincha Class - "What Shall We Eat in the Seventh Year? An Introduction to the Issues of Produce in the Shemitah Year"

Following 4:05 pm Mincha Services
Shiur - "Must We Obey Secular Law? Reflections on Dina d'Malchuta Dina"
---
KJ Annual Dinner - Concert Edition
Sat / Dec 11 / 8:00 pm
Happy Birthday Rabbi Lookstein!
Celebrate the 90th birthday of Rabbi Haskel Lookstein and his lifetime of devoted service to the KJ/Ramaz Community! Join us for a very special edition of the KJ Annual Dinner, featuring Cantor Chaim Dovid Berson musically accompanied by a Surprise Jewish Music Superstar! The concert will have both In-Person and Virtual attendance options. Register HERE.
---
Wed, October 27 2021
21 Cheshvan 5782
Today's Calendar
Sephardic Morning Services

: 7:15AM
Morning Services

: 7:30AM
Torah Class with Rabbi Lookstein

: 9:00AM
Beginners Hebrew

: 5:30PM
Evening Services

: 5:55PM
Intermediate Hebrew

: 6:30PM
Advanced Hebrew with Sara Rosen

: 7:30PM
Contemporary Halakhic Issues

: 9:00PM
---
Tomorrow's Calendar
Sephardic Morning Services

: 7:15AM
Morning Services

: 7:15AM
Kings I

: 8:30AM
Evening Services

: 5:55PM
Meaningful Jewish Living

: 7:00PM
---
Friday Night
Sephardic Evening Services

: 5:35PM
Candle Lighting

: 5:38PM
Evening Services

: 5:50PM
Shabbat Day
Hashkama Minyan

: 7:10AM
Morning Services

: 9:00AM
Morning Services

: 9:00AM
KJB Minyan

: 9:30AM
Evening Services

: 5:25PM
Sephardic Evening Services

: 5:25PM
End of Shabbat

: 6:32PM
Upcoming Programs & Events
---
This week's Torah portion is

Parshat Chayei Sara
Shabbat Mevarchim
View Calendar
Wed, October 27 2021 21 Cheshvan 5782