KJ App Events Page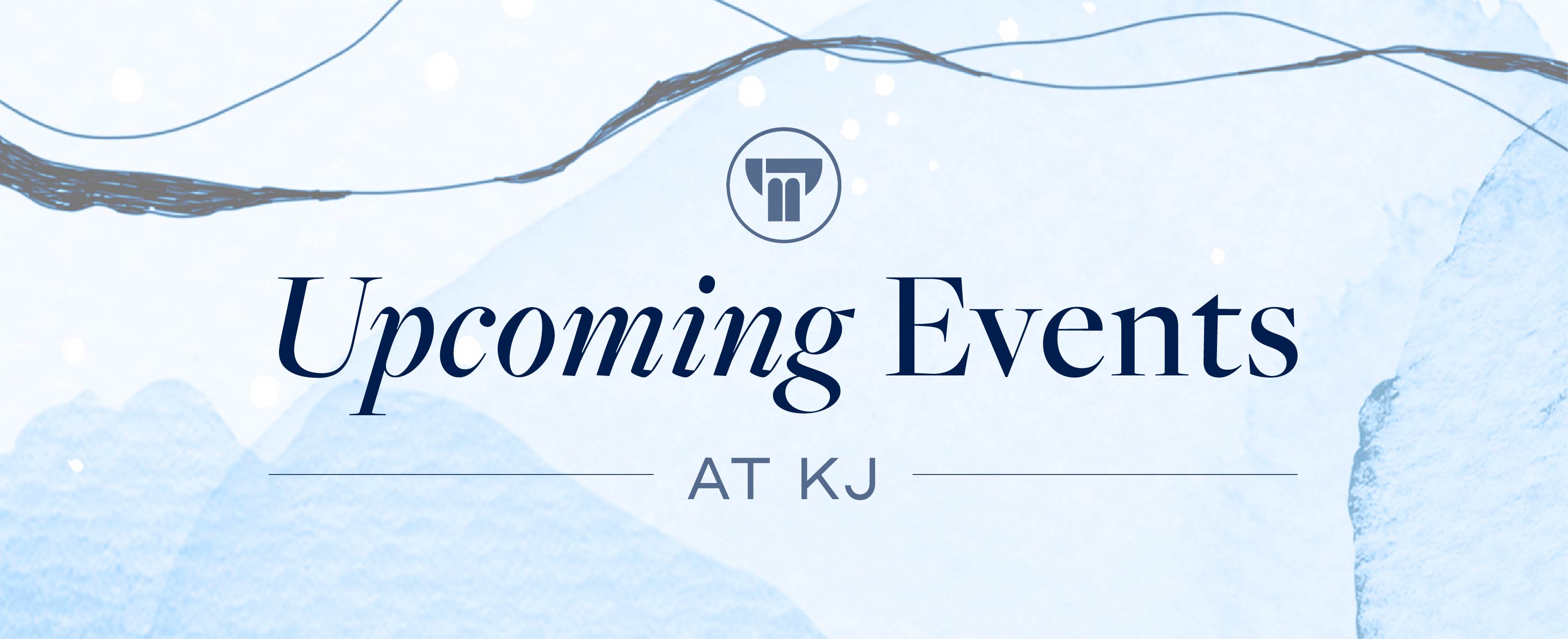 KJ MEN'S CLUB WEBINAR SERIES
thursday / may 19 / 7:00 pm
Topic - "Perspectives on the State of the Jewish World in 2022" A conversation between special guest William Daroff, Chief Executive Officer of the Conference of Presidents of Major American Jewish Organizations and Dr. Mark Meirowitz, President of the KJ Men's Club. ZOOM ID - 897 0310 8050
---
FNL - Martinis & Matzah Balls
Friday / may 20 / 6:45 Pm
(Services followed by dinner)
- Lively Shabbat Service led by Chazan Joey Senders
- Delicious dinner with terrific company
- Oh yeah, martinis and matzah balls will be served!
- RSVP HERE
---
shavuot Dairy Dinner
Saturday / June 4 / 9:15 pm
(Following 8:00 pm Evening Services)
Join us for a delicious dairy dinner followed by Tikun Leyl Shavuot, all-night learning for young and old, with delicious treats throughout. Sunrise minyan at 4:50 am. RSVP HERE. Reservation deadline is Wednesday, June 1 at 10:00 am.
---
MJL Finale & Celebration
Thursday / juNe 23 / 7:00 pm
7:00 pm - Q&A with the KJ Clergy
7:45 pm - Kumzitz with Chazan Joey & friends

Join our Clergy for an end of year celebration featuring sushi, wine, inspiration and a little Torah! RSVP here.
---
Mon, May 23 2022
22 Iyyar 5782
Tonight's Sefirah Count Is 38
היום שמונה ושלשים יום שהם חמשה שבועות ושלשה ימים לעמר
Today's Calendar
Sephardic Morning Services

: 7:15AM
Morning Services

: 7:15AM
Exploring Jewish Thought with Rabbi Chaim Steinmetz

: 9:00AM
Evening Services

: 6:45PM
---
Tomorrow's Calendar
Sephardic Morning Services

: 7:15AM
Morning Services

: 7:30AM
The Text of the Talmud

: 9:00AM
Back to Basics: Understanding Prayer

: 6:00PM
Evening Services

: 6:45PM
Masterclass on Sefer Tehillim - – The Book of Psalms

: 7:00PM
---
Friday Night
Evening Services

: 6:45PM
Candle Lighting

: 7:58PM
Shabbat Day
Hashkama Minyan

: 7:10AM
Morning Services

: 9:00AM
Morning Services

: 9:00AM
Kesher Minyan

: 9:30AM
KJB Minyan

: 9:30AM
Sephardic Evening Services

: 7:45PM
Evening Services

: 7:55PM
End of Shabbat

: 9:01PM
Upcoming Programs & Events
---
This week's Torah portion is

Parshat Bechukotai
Shabbat Mevarchim
View Calendar
Mon, May 23 2022 22 Iyyar 5782